Le Trabendo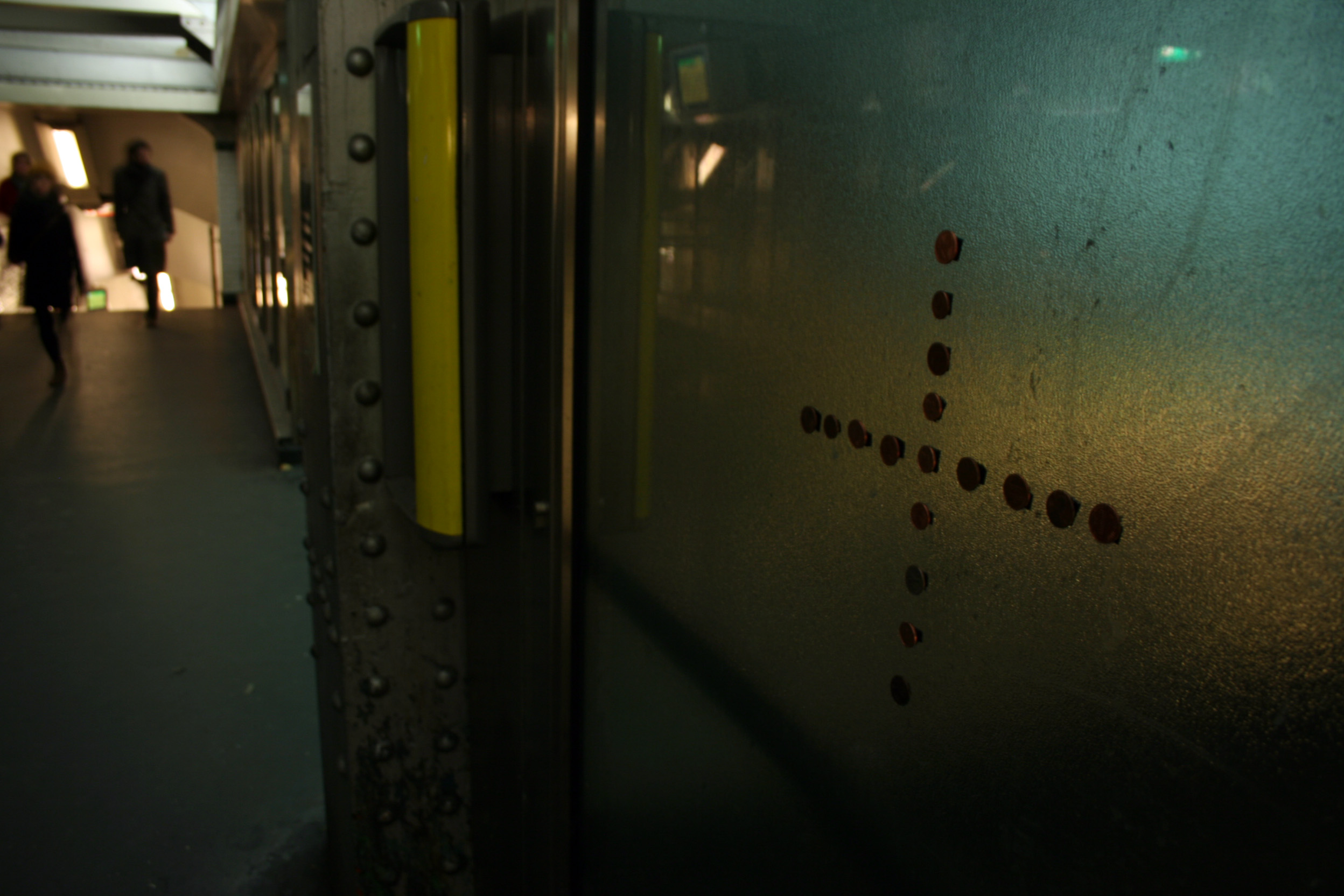 Gold Standard
Social Sculpture, Coin pieces & velcro
To display myself and strangers I put these sculptures in places that are awkward, places that make me feel exposed. Tithe for anyone so willing (or needing) to treat and expose, with social tools, the most basic disease in our world.
Gold Standard
Debth
Creative Solution
Since my Sallie Mae and Direct Loans went into payment post-graduation, Life demands my salary. I pay my loans each month with one painting to each collector.
Project for Sallie Mae & Direct Loans, ongoing since 2009
Translation A & A'
Participatory Installation
500 bricks painted gold & Instructions
Situated on facing intersections, an original pile of 500 gold bricks travelled back and forth across the street over 9 hours in the hands of various people.
The piles became transformed over time as participants followed instruction (or didn't) to carry a brick across the street and place it in a new pile.
Project for Art Al Fresco Columbus Ohio 2009 Prize Winner
Chapter #2
Performance
Following the completion of a major mural project this performance was designed to embody and explode the experience of the intense work environment.
The collaborative effort using only one prop became a staple performance for the project 'Extended Video Play' by artists TilGold & Pvonk. Watch the performance here.
Project for TilGold & Pvonk, presented by Arte Creative Paris 2012
Cycle City
Guerrilla decal sticker campaign
2.5" x 1.5" decals of a babe on a bike. Placed on sideview mirrors of cars.
+Awareness can reduce the high rate of bike accidents caused by motor vehicles, and promote safety amongst cyclists.
+Safer roads for cyclists means more people willing to bike and a healthier, environmentally friendly city.
Project in part for Vinyl Frontier Records, Mission Coffee Co. LLC Columbus 2012
Trouble Dolls - short film 2013
Get My Name
Works Showcase/ Web Concept
This design is a horizontally functioning scrolling gallery. Organized by client, the usability of this concept is based on the 'swipe' action smart phones have cultivated.
The images you see are programmed to scroll on their own, swiping will flip the gallery to another body of work and it's explanation.